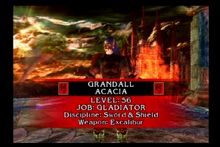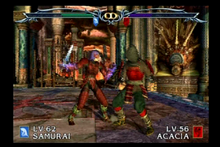 "Acacia" was a personal knight to Strife Astlar in Chronicles of the Sword. Acacia, among every other character in the mode, has the highest amount of health (894 hit points which is higher than Strife himself). Her weapon allows her to regain health after attacking and she hesitates none (when compared to other members of the Ressentiment) to knock the player out of the ring with her rising 'K' and will often refrain from using the additional attack which follows it.
Name:Acacia
Sex:Female
Job:Gladiator
Weapon:Sword & Shield
Alignment:Evil/Light
True Alignment:Good/Light
Creation
Face:08
Eyebrows:29,25
Lips:04,17
Eyes:01,27
Skin:04,15
Underwear:01,18
Voice:Girl 1
True Voice:--
All:--
Head:Opera Mask(02,24)
Hair:Semi-Long [Straight](29,25)
Mask:--
Chin:--
Lower Torso:Chain Mail(01,25)
Mid Torso:--
Upper Torso:Shadow Armor(02,23)
Arms: Punisher's Gauntlets(02,23)
Shoulders: Ogre Shoulders(02,23)(02,23)
Neck:--
Waist:Scale Tasset(02,23)
Lower Legs:Chain Hose(01,25)
Upper Legs:--
Shins:--
Socks:--
Feet:Cursed Leg Armor(02,23)
Trivia
Acacia is a genus of shrubs and trees located of Gondawanian origin.
Community content is available under
CC-BY-SA
unless otherwise noted.