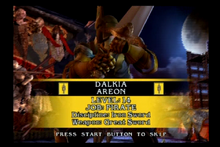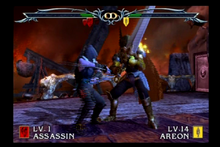 A high-ranking officer of Dalkia. He was ordered to organize an attack against Grandall. He seemed confident of his skill, for his unit consisted of only Luna and minor soldiers. He was however, easily defeated. He is taller than other units in the game, and in battle he is clearly much taller than the player.
He led the first Dalkian attack against Grandall in chronicle 4 of the Chronicles of the Sword.
https://www.youtube.com/watch?v=8qshOl_Iwhg#t=15m20s
Create a Soul formula SCIII
Name:Areon
Sex:Male
Job:Pirate
Weapon:Iron Sword(1)
Alignment:Evil/Dark
True Alignment:--
Face:12
Eyebrows:05,25
Lips:04,16
Eyes:23,11
Skin:04,19
Underwear:01,18
Voice:Young Man 2
True Voice:--
All:--
Head:Unholy Helm(08,24)
Hair:Bald(11,15)
Mask:Japanese Eye Patch*
Chin:--
Lower Torso:Chain Mail(01,14)
Mid Torso:Farmer's Shirt(01,27)(01,27)
Upper Torso:Demonic Armor(01,21)
Arms:Metal Gloves(08,19)
Shoulders:Shoulder Armor(08,24)
Neck:Paladin's Cape(08,24)
Waist:Lord's Tasset(01,15)
Lower Legs:--
Upper Legs:Fire Dragon(01,27)
Shins:--
Socks:--
Feet:Protective Greaves(08,19)
Community content is available under
CC-BY-SA
unless otherwise noted.