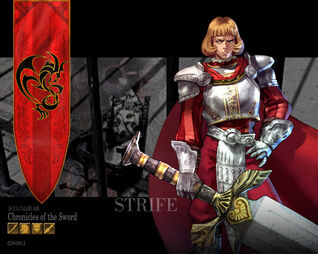 This page describes Iron Sword Battle Style in each of the games in which it appeared.
This style is based on power, and the moves are a bit slow, but very difficult to avoid by the time the player is in the ground. Some of its moves are taken from Siegfried and Nightmare. Strife, Eurydice, and other Chronicles of the Sword characters use this style. In Tales of Souls mode, there are several characters that use the Iron Sword style such as Gladiator (Female), Keres, and General.
As Soul Calibur is seen in Chinese Blade discipline, Soul Edge appears as the ultimate weapon for this discipline.