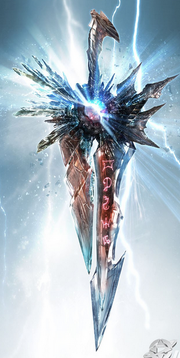 Broken Destiny is an unlockable weapon for Siegfried and Nightmare in Soulcalibur: Broken Destiny. They appeared to be a fusion of both Soul Edge and Soul Calibur as they appear in Soulcalibur IV. They may have been based upon the Soul Embrace, but does not bear much resemblance to them.
Broken Destiny bears slight resemblance to Nightmare/Siegfried's version of Soul Calibur in Soulcalibur II.
Gallery
Community content is available under
CC-BY-SA
unless otherwise noted.