Cocytus
General Information
Wielder
Cervantes
Weapon Type
Longsword and Pistol Sword
Obtainment
For sale in
Chapter 8, Chapter 9, Subchapter 3
Price
3,000 Gold
Statistics
 Cocytus is one of Cervantes' weapons in Soul Calibur II.
Soul Calibur II
Good offense, but wielder receives damage.
Offense: 130% Defense: 100%
Note: Successful strikes against opponent drain health. Throws do not drain health.
Descritpion:
An ancient sword dug up out of the permafrost. It is always cold and causes freezing burns in those it wounds. Because of its low temperature, droplets of water appear on its surface and fall to the ground like tears, giving it the additional name of the Crying Sword. As one would expect from its cold temperament, it is unaffected by the state of its wielder's heart.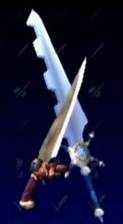 Community content is available under
CC-BY-SA
unless otherwise noted.