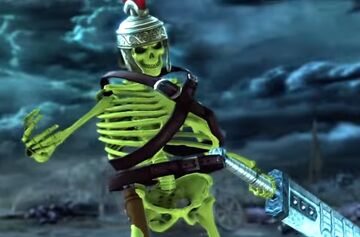 The 
Drakes
are undead creatures who appear in the "Gold Drake" and "Silver Drake" events of 
Soulcalibur: Lost Swords
.
Role in Soulcalibur: Lost Swords
The Drakes are skeletons of once living warriors, who now roam the battlefield with armors and weapons seeking someone to fight. They appear in various types and only in two specific limited time events. The player must fight them in order to achieve great quantity of experience.
Types
The Drakes vary in color, weapon and size:
Quotes
Ah, this'll be easy.
Alright, I'm gonna enjoy this!
Now... stay down!
I can feel it! - Critical Edge
Yeah! - Critical Edge
I'm... the best! - taunt
Try again!
Piece of crap!
This is gonna hurt!
Come on now!
What?! - Damage
No fair! - Guard Burst
What's going on? - tremor
I'll get you next time. - time's up
That's gonna leave a mark!
I don't even know my own strength!
There's more where that came from!
I might have a position open for ya.
Trivia
Some colorful skeletons appear in one of Soulcalibur: Lost Swords' trailer. But its unknown if they were Drakes.
They appearence is that of the DLC Skeleton Costume from Soul Calibur V.
They use male "Scoundrel" voice set from Soul Calibur V's Creation mode.
Community content is available under
CC-BY-SA
unless otherwise noted.