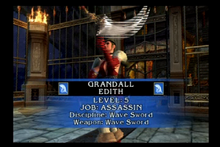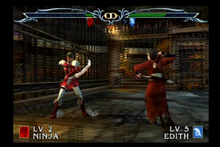 Edith is a character in Chronicles of the Sword. She was one of the soldiers under Girardot's command in Chronicle 2.
Edith appears in Soulcalibur IV under Tower Of Lost Souls both ascend & descend mode but in ascend mode she is under the floor "Worshiped Sacrifice" where she is based on Voldo.
Create a Soul formula SCIII
Name:Edith
Sex:Female
Job:Assassin
Weapon:Wave Sword(1)
Alignment:Good/Light
True Alignment:--
Face:02
Eyebrows:11,24
Lips:04,17
Eyes:01,27
Skin:04,17
Underwear:01,18
Voice:Girl 2
True Voice:--
All:--
Head:Enchanted Ring(26,26)
Hair:Low Ponytail(11,24)(02,19)
Mask:--
Chin:--
Lower Torso:Scale Bustier(36,21)
Mid Torso:--
Upper Torso:--
Arms:Noble's Gloves(02,19)
Shoulders:Mini Hunter's Pads(12,12)
Neck:Grand Choker(11,24)
Waist:Viking Belt(12,12)
Lower Legs:Clown Pants(02,12)(02,12)
Upper Legs:Mini Skirt(02,19)
Shins:--
Socks:Cloth Socks(09,06)
Feet:Pirate's Boots(02,19)
Soulcalibur IV Details
Skills: Shave Damage B
HP Recovery B
Voice: Female voice 3
TOLS Floor: Worshiped Sacrifice (Floor 53)
Base: Voldo
Weapon: Jamadhar
Community content is available under
CC-BY-SA
unless otherwise noted.