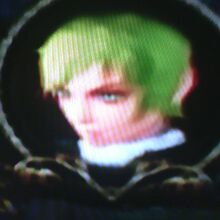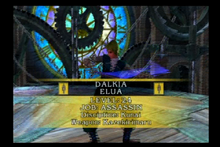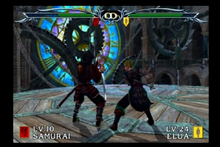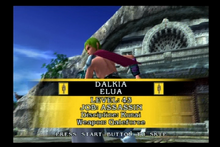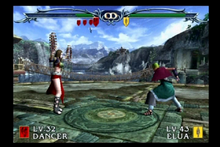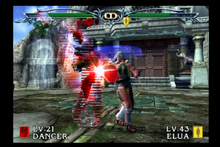 Elua is a quick and swift fighter of the Klessirpemdo who used the Kunai, Galeforce. Her nickname was the "Wind of Creation". It is impossible to unlock Elua through any terms other than Create-a-Fighter. Much like other members of the Klessirpemdo, she shows aggressive behavior when losing to the Cadet.
Chronicle 9
https://www.youtube.com/watch?v=smwYlpG3HQo#t=7m14s
Stage
Proving Grounds (Kilik's stage)
This stage is an outdoor stage (windy) revere to her nickname, the effect of this stage increases the chances of a ring out. Note: The effects of this stage can be bolstered if the player's weapon holds a boost in pushback/knockdown force.
Create a Soul formula SCIII
Name:Elua
Sex:Female
Job:Assassin
Weapon:Kunai (x2)
Alignment:Evil/Light
True Alignment:Evil/Dark
Face:07
Eyebrows:13,23
Lips:04,18
Eyes:13,23
Skin:04,16
Underwear:01,18
Voice:Girl 2
True Voice:--
All:--
Head:--
Hair:Unruly Short Hair(13,23)
Mask:--
Chin:--
Lower Torso:Scale Mail(01,21)
Mid Torso:Fighter's Robe(21,24)
Upper Torso:--
Arms:Burglar's Gloves(01,19)
Shoulders:--
Neck:-- (For true alignment) Grand Choker* (It's barely noticeable)
Waist:Leather Belt(33,26)
Lower Legs:-- (For true alignment) Slit Pants*
Upper Legs:Prayer Pants(01,27)(18,25)
Shins:--
Socks:--
Feet:Viking Boots(09,23)(09,04)
Trivia
Initially, she cared little for the cadet/player upon first having to face them. Meaning she initially saw them as a minor threat, this is shown as she says: "All we have to do is take care (kill) them today right?" Lupi then scolds her, lightly, about not being serious about the situation.
Community content is available under
CC-BY-SA
unless otherwise noted.