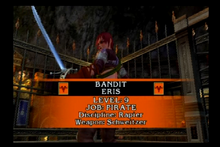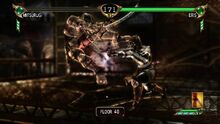 Eris was a character in the Chronicles of the Sword part of Soulcalibur III. She is found in Chronicle 3 as a brigand under Chester's command. She fights with the rapier discipline. In Soulcalibur IV she is found in the Tower of Lost Souls Ascend Mode on Floor 40. She is also found in the Descend of the Tower of Lost Souls.
Create a Soul formula SCIII
Name:Eris
Sex:Female
Job:Pirate
Weapon:Rapier(1)
Alignment:Good/Light
True Alignment:--
Face:02
Eyebrows:02,22
Lips:04,18
Eyes:01,27
Skin:04,16
Underwear:01,18
Voice:Girl 1
True Voice:--
All:--
Head:--
Hair:Unruly Short Hair(02,22)
Mask:--
Chin:Blush(03,19)
Lower Torso:Metal Brassiere(36,18)
Mid Torso:Dancer's Jacket(29,03)
Upper Torso:Thief's Belt(12,24)(07,04)
Arms:Thief's Gloves(02,22)(01,19)
Shoulders:--
Neck:--
Waist:Sage's Belt(02,22)(12,24)
Lower Legs:Ring Pants(36,17)
Upper Legs:--
Shins:--
Socks:--
Feet:Stealth Leggings(08,23)
Tower of Lost Souls Details
TOLS Mode: Ascend
Floor Challenge: Irritation to Ruin
Fighting Style: Taki
Eris has two skills in Soulcalibur IV.
Auto Unblockable Attack B
Community content is available under
CC-BY-SA
unless otherwise noted.