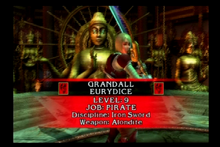 A knight of
Grandall
and close friend of
Abelia
, she formed part of Abelia's unit during and after her training in the Parousia Academy. She followed
Abelia
when she joined the Cadet against
Dalkia
, and went with them until the end. After ending the war, she's assigned to another unit.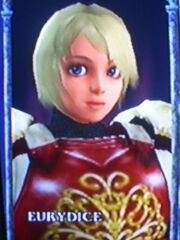 Eurydice also was against fighting the Arthias, led by a former friend and commanding officer, and is controlled by a shard of Soul Edge and forced to fight. She, once freed of the curse, joins the Arthias against Strife.
Apperances
Eurydice appears for the first time in Chronicle 5 (Bridge to Hatred) and along with Abelia, become playable.
After Kagami's defeat (Chronicle 17), she along with Meiga, Aeneas, Kanon, Riese, and Leraje are corrupted by fragments of Soul Edge, which in turn, leads the group to attack the Cadet (the player) and their allies.
Weapons
She uses the weapons common to the Knight style - Iron Sword. In Soul Calibur: Broken Destiny, she wields the Claymore.
Create a Soul formula SCIII
Name:Eurydice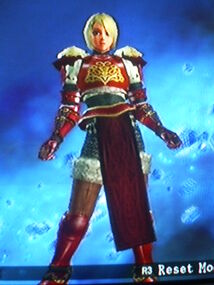 Sex:Female
Job:Knight
Weapon:Claymore
Alignment:Good/Dark
Face:03
Eyebrows:08,11
Lips:02,18
Eyes:26,25
Skin:04,17
Underwear:01,18
Voice:Girl 2
All:--
Head:--
Hair:Short Hair(08,17)
Mask:--
Chin:--
Lower Torso:Chain Mail(02,11)
Mid Torso:Short Top(10,14)
Upper Torso:Breastplate(02,22)
Arms:Copper Braces(36,11)
Shoulders:Iron Pads(02,23)
Neck:--
Waist:Wizard's Belt(36,21)(27,07)
Lower Legs:--
Upper Legs:Long Pants(07,05)
Shins:--
Socks:--
Feet:Heavy Boots(02,21)
Base Parameters
Level: 8
Health: 276/276
Weapon: Great Sword (default)
EXP: 2310/2680
STR: 115
VIT: 84
AGI: 85
Trivia
When the player first encounters Eurydice, she is considered a Pirate, but after her defeat later when the player rebels, she will be listed as a Knight.
It is not stated whether or not her name has any connection with Eurydice Shrine.
Eurydice makes a cameo appearance in Soul Calibur: Broken Destiny, using Nightmare's moves and wields the Claymore. She also has a very high-pitched voice.
Community content is available under
CC-BY-SA
unless otherwise noted.