REDIRECT Template:UserCharacter (Old)
Andromache Marinos (アンドロマケ マリノス, Andoromake marinosu Greek: Ανδρομάχη Μαρίνος) is a character in the Soul series of games who has made her debut in Soulcalibur V. She is the childhood friend of Alexandria Angelopoulos and Chelsea Papadopoulos.
Create-a-Soul formula SCV
Name:Andromache
Sex:Female
Style:Patroklos
Weapon:Spatha and Scutum(9:43,17/ 0:09,20/ 6:09,26/ 9:43,17)
Weapon Trail:9:33,15
Stage:Free Imperial City Center
Voice:Cynical Pitch:0 Tone:-10
Malfestation Level:None
Face:Female Face 2
Eyebrows:3:02,29
Eyes:1:03,26
Hair:Long Braid(6:02,28/ 9:62,23)
Underwear:Basic Clothes(0:0,0/ 0:0,0)
Skin:2:07,2
Upper Body:--
Lower Body:Slit Skirt(3:00,0)
Chest:New Centurion
Hip:--
Arms:Vagrant's Kote(2:41,9/ 5:08,19/ 9:00,0/ 8:00,0)
Shoulders:Viking Shoulders(0:00,0/ 9:00,14/ 9:08,25)
Neck:--
Socks:--
Feet:Gladiator's Boots
Accessory 1:Angel's Feathers
Accessory 2:--
Accessory 3:--
Quotes
So, you wanna fight?
The battlefield's where I belong.
You seem strong.
I'm hungry.
You're think you're strong enough?'
Ready?
..and go!
Idiot.
I won't lose!
You think so?
Too much!- spoken during Guard Burst
I won't go easy!- spoken before Critical Edge
You're mine!- spoken during Critical Edge
Fighting Style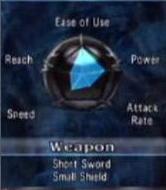 Theme Music
Soulcalibur V
Community content is available under
CC-BY-SA
unless otherwise noted.