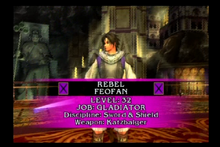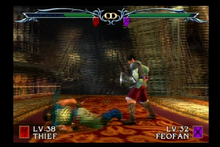 A younger, hot-headed member of Girardot's rebellion. After failing to defend Girardot, he allied with the new Arthias to avenge him.
https://www.youtube.com/watch?v=6PC7dkVYmC0#t=10m09s
Weapons
He uses the weapons common to the Gladiator style - that of a sword and shield
Katzbalger -- Not much is known about this weapon but Feofan wields it. Katzbalger is also one of Sophitia's Soul Calibur II weapons.
Trivia
If you defeat him before Rudiger, you have him on your side and unlock Male Face 01 and some of his clothing.
He resembles Sora from the Kingdom Hearts series.
Create a Soul formula SCIII
Name:Feofan
Sex:Male
Job:Gladiator
Weapon:Sword & Shield(3)
Alignment:Good/Light
Face:01
Eyebrows:07,27
Lips:36,16
Eyes:20,18
Skin:04,17
Underwear:01,18
Voice:Young Man 2
All:--
Head:--
Hair:Medium Hard(07,27)
Mask:--
Chin:--
Lower Torso:--
Mid Torso:Shirt with Ribbons(28,24)
Upper Torso:Rubber Armor(23,09)
Arms:Dodge Braces(20,03)
Shoulders:Light Shoulder Pads(24,09)
Neck:--
Waist:Large Tasset(22,11)
Lower Legs:--
Upper Legs:Clown Shorts(35,18)(35,18)
Shins:--
Socks:--
Feet:Buckled Boots(04,07)