Free Imperial City: Old Quarter
Background music
Wings of Sorrow
Home to
Pyrrha (SCV)
"The fires of persecution draw out humanity's true self."
— Narrator
The stage is set outside of a partially destroyed building with glass windows, possibly a church. Located some distance away from the city center, fires are set ablaze from those engaged in the "Malfested Hunt". The Old Quarter had served as a refuge for the poor and homeless coming from other nations. The refugees had been able to develop the Old Quarter as an ideal hiding place, at the cost of making it effective for emergency evacuations.
Trivia
The Old Quarter stage is used to represent various European locations in Story Mode, such as in the opening scene in Sopron, Hungary; known in-game by its German name Ödenburg

. It was also used to represent a town in Northeast Bavaria and the location of the town unwillingly destroyed by Pyrrha.
Gallery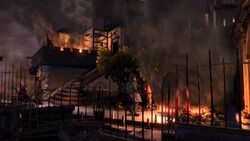 Community content is available under
CC-BY-SA
unless otherwise noted.