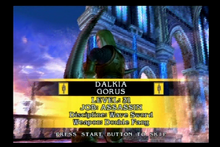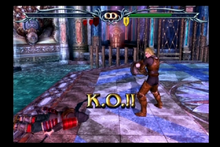 Gorus was a Dalkian soldier. He fought under Queen Aurelia Dichalla Dolce's command during Chronicle 12 of "Chronicles of the Sword".
https://www.youtube.com/watch?v=hH_OeyoaK7k#t=1m51s
Gorus appears in Soulcalibur IV in Tower Of Lost Souls in ascend mode under the floor "Iron Sword" using Kilik as a base.
In Soulcalibur: Broken Destiny Gorus is based on Astaroth in Quick match & Endless trial.
Soulcalibur IV Skills & Details
1.Start Dash B
2.Will Power
Ascend Mode Floor: Iron Sword (Floor 24)

Base: Kilik
Weapon: Embrace of Souls
Community content is available under
CC-BY-SA
unless otherwise noted.