This page is a Guide on how to rename a page. There are several reasons why you may want to rename a page:
The title has been misspelled
The title does not follow the community's naming conventions
Or anything else.
Step by Step
Renaming a Page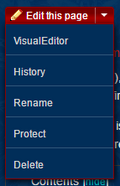 Go to the page you want to rename and click on the drop down arrow on the "Edit this page" button and click "Rename".
You will be taken to a page that contains a small form where you rename your page.
Write in the new name of the page and the reason for the rename.
Choose whether you also want to rename the page's talk page and any subpages (usually you do).
Choose whether or not you wish to 'follow' the page.
Click the 'Rename page' button and the page will be renamed to the new title.
Moving to an existing pagename
If you wish to delete the existing page you will need to contact an administrator on your wikia.
Otherwise you must enter a different title and click the 'Rename' button.
You will see a green notice at the top of the page confirming the rename, and a redirect will be created from the old page to the new one.
If you are an administrator you have the additional option on page renames of disabling the automatic redirect, leaving no content at the original page.
FAQs
Community content is available under
CC-BY-SA
unless otherwise noted.