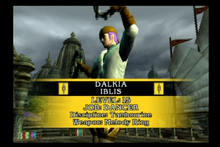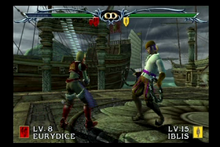 Iblis was a Dalkian soldier. He fought under Roin's command during Chronicle 5 (Bridge to Hatred) of "Chronicles of the Sword".
He also appears in Soulcalibur IV under Tower Of Lost Souls both ascend & descend modes but under ascend he appears under the floor "Time To Trifle" where he uses Yoshimitsu's weapon and he is teamed up with Abigail
Create a Soul formula SCIII
Name:Iblis
Sex:Male
Job:Dancer
Weapon:Tambourine(1)
Alignment:Evil/Light
True Alignment:--
Face:06
Eyebrows:32,18
Lips:04,17
Eyes:01,27
Skin:04,17
Underwear:01,18
Voice:Young Man 2
True Voice:--
All:--
Head:Pirate's Bandana(08,21)
Hair:Regent(32,18)
Mask:--
Chin:--
Lower Torso:Undershirt(08,24)
Mid Torso:Shirt with Frills(01,17)
Upper Torso:--
Arms:Bandit's Gloves(08,24)
Shoulders:--
Neck:--
Waist:Carrying Belt(32,18)
Lower Legs:Leggings(36,03)
Upper Legs:Fighter's Shorts(08,24)
Shins:--
Socks:Tabi(36,03)
Feet:Clown Shoes(36,03)
Soulcalibur IV Details
Floor Appearance: Ascend mode & Descend mode
Floor: 37 (Time To Trifle)
Base: Yoshimitsu
Weapon: Manji Sword
Skills:
HP Recovery A
Auto Grapple Break A
Soul Gauge Recovery A
Trivia
His name means "devil" in Indonesian and Malay.
Community content is available under
CC-BY-SA
unless otherwise noted.