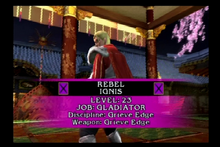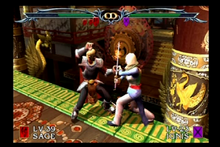 A Grandall Officer posing as a member of Girardot's rebellion.
Chronicle 14
https://www.youtube.com/watch?v=72iUJv5gijg#t=21m47s
Weapons
He uses the weapons common to the Gladiator style - Grieve Edge
Create a Soul formula SCIII
Name:Ignis
Sex:Male
Job:Gladiator
Weapon:Grieve Edge(2)
Alignment:Good/Light
True Alignment:Evil/Dark
Face:07
Eyebrows:10,19
Lips:04,16
Eyes:01,27
Skin:04,18
Underwear:01,18
Voice:Young Man 1
True Voice:Young Man 2
All:--
Head:--
Hair:Gelled Back(10,19)
Mask:Monocle [Left Eye](01,19)(04,18)
Chin:--
Lower Torso:Sleeveless Shirt(02,19)
Mid Torso:Silk Tunic(02,19)
Upper Torso:Rubber Armor(01,19)
Arms:Warlord's Bracelets(01,19)
Shoulders:Warlord's Shoulders(01,19)
Neck:Paladin's Cape(02,19)
Waist:Dodge Tasset(01,19)
Lower Legs:--
Upper Legs:Tapered Pants(01,27)
Shins:--
Socks:--
Feet:Armor Boots(01,19)
Etymology
Ignis' name is Latin for "fire".
Community content is available under
CC-BY-SA
unless otherwise noted.