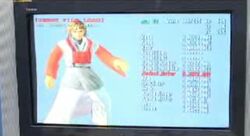 Makoto Kiyokawa
is the Director/Senior Game Designer in Character Creation. Makoto Kiyokawa holds his duty when the producer decides to add the bonus character from his previous ideas.
Senior Game Designer
Visual Director/Senior Visual Designer
Visual Design Chief
Visual Designers
Shinichi Ikeda
Ikuko Wada
Koushi Watanabe
Yuko Hirano
Community content is available under
CC-BY-SA
unless otherwise noted.