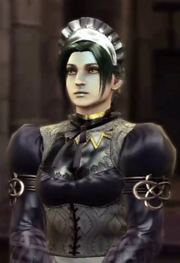 Marienbard is one of Raphael's servants, who is also a playable character who fights with a Death Scythe (Zasalamel's fighting style). She is the only one of Raphael's servants who has some knowledge of Soulcalibur's story.
Quotes
Soulcalibur IV
Get Lost!
Don't bother me.
You want to fight? Fine with me.
Come to me.
Determination does not equal for strength.
Only the victor can decide what is justice.
Which do you want destroyed? Body or Soul?
Pathetic!
Fight!
Stupid.
Be vanish!
Does is Hurt?
Oops, there you go.
Yes.
Amy... wait for him. (only battling Amy)
Soulcalibur Broken Destiny
My lady, the master has returned home. The preparations for punishment are ready. Where shall we begin?
Creation Formulas of Marienbard in SCIV
Name: MARIENBARD
Style: Zasalamel
Weapon: Death Scythe
Physique: 0  Muscularity: 0
Female Voice 4 Pitch: 0
Hair: French Braid
Female Face 4
Hair & Eyebrows:
Eyes:
Skin:
Facing off Raphael in his story Stage 1
Clergy Clothes
Princess Gloves
Emboried Drawers
Short Socks
Attack: 121%
Defense: 98%
HP: 75%
As Raphael's Servant
White Brim (DLC)
Lace Tie (DLC)
Bordered Suit
Parlor Blouse
Belle Gloves
Apron Skirt (DLC)
Silver Boots
Attack: 110%
Defense: 86%
HP: 145%
Trivia
She reappears in the Gauntlet mode from Soulcalibur: Broken Destiny after Jacqueline runs from something unknown between Chapter 9-2 and Chapter 9-3.
She appears in Raphael's ending along with Auguste, and in Amy's ending along with Jacqueline.
When re-creating Marienbard she has a unique "Belle Gloves" design that can only be seen in story mode but when re-creating her she doesn't have the unique design on her "Belle Gloves". But in Soulcalibur: Broken Destiny she can be re-created along with the "Unique Belle Gloves" design on her. It is also interesting to note that when playing as Raphael, when you fight her and Jacqueline, they are wearing normal clothes, but when they become his servants, they are wearing maid outfits.
She is voiced by Heather Hogan in English and by Hitomi Nabatame in Japanese, who also voice Amy. However she can be created easily in Soulcalibur IV Create-A-Soul mode with premium edition of the game or via DLC.
Marienbard along with Jacqueline have a unique pale lip color feature on them. Creation mode does not allow the option of changing lip color.
Marienbard and Jacqueline also have yellow eyes which might indicate that Raphael has turned them into vampires.
Gallery
Community content is available under
CC-BY-SA
unless otherwise noted.