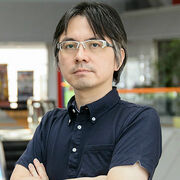 Masaki Hoshino was the former game producer and director of the Soul series.
Hoshino's past involvement with the Soul series had him as a programmer on Soulcalibur II, lead programmer on Soulcalibur IV, and Technical Programming Director on Soulcalibur V. He often tweeted about any Soulcalibur news. [1]
Hoshino left Project Soul sometime in 2017. He was succeeded by various producers before being replaced by Motohiro Okubo. [2]