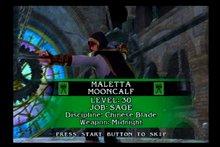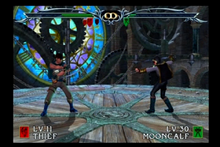 A mysterious assassin, Mooncalf was once a mother, but her child was taken by the Royal Family of Halteese. Now burning with vengefulness and motivated with the possibility of finding her daughter, she allied with Hyle, who planned to take Maletta, and followed him into Epistema. There she assassinated the members of the Halteese Royal Family, but was defeated and forced to retreat by the Cadet's unit.
During the escape Hyle tried to delay the troops and let her reach Untide and finish off the last of the Halteese Royal Family, but Kierkess halted her attempt of killing Demuth. After being tortured by Kierkess, she revealed Hyle's plans, and then is killed in cold blood by him. In her last breaths, she lamented not being at the side of Luna, her daughter.
Weapons
She uses the weapons common to the Sage style - Midnight
Mooncalf's weapon Midnight boasts special effects: having an unusual shape, it allows for attacks to damage through the opponent's guard, and is also a pretty sharp blade. However because of the unusual shape, using it safely isn't guaranteed and Mooncalf (or the wielder) will often take damage every time an attack is performed.
Create a Soul formula SCIII
Name:Mooncalf
Sex:Female
Job:Sage
Weapon:Chinese Blade(8) Midnight
Alignment:Evil/Light
True Alignment:Evil/Dark
Face:10
Eyebrows:02,22
Lips:04,17
Eyes:01,27
Skin:04,15
Underwear:01,18
Voice:Woman
True Voice:--
All:--
Head:Magician's Hood(01,27)
Hair:Medium Straight(02,22)
Mask:--
Chin:--
Lower Torso:Body Suit(01,18)
Mid Torso:Tight Shirt(01,14)
Upper Torso:Thief's Belt(33,24)(07,04)
Arms:Hawk Talon(02,25)
Shoulders:--
Neck:-- (Optional if you want the Evil/Dark personality) Diamond Brooch(01,18)
Waist:Guardian Belt(33,24)
Lower Legs:Clown Pants(01,27)(01,27)
Upper Legs:--
Shins:--
Socks:--
Feet:Pointed Boots(22,23)(22,24)
Community content is available under
CC-BY-SA
unless otherwise noted.