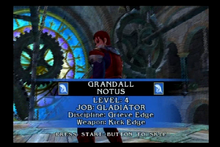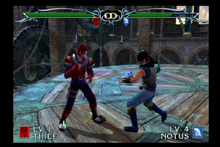 Notus is a very minor character found in Chronicles of the Sword mode. He never speaks, nor does he have much to do with the storyline. He fights under Abelia's command.
Chronicle 18
Weapons
--Kick Edge
Two iron shoes with what look like sharpened rocks at both ends. It is the weakest weapon under the Grieve Edge discipline. Not much else is known about it.
Stages
Notus does not have a stage.
Chronicle 1 (enemy)
Chronicle 18 (enemy)
Trivia
Despite being a man, Notus has a feminine appearance. This might be due to his face and hair. This could be a reference to the character Haku from the Naruto series, both are male, but look like females.
Notus' name could be a hybrid of the words, note & lotus.
When the player defeats Notus in Chronicle 18, they will be given very little XP points although Notus himself is at level 35.
Create a Soul formula SCIII
Name:Notus
Sex:Male
Job:Gladiator
Weapon:Grieve Edge(1)
Alignment:Good/Light
True Alignment:--
Face:01
Eyebrows:02,22
Lips:03,17
Eyes:01,27
Skin:03,17
Underwear:01,18
Voice:Young Man 1
True Voice:--
All:--
Head:--
Hair:Gelled Back(02,22)
Mask:--
Chin:--
Lower Torso:--
Mid Torso:Cloth Shirt(26,27)
Upper Torso:Rubber Armor(02,22)
Arms:Bandit's Gloves(02,22)
Shoulders:Shoulder Armor(02,22)
Neck:--
Waist:Thief's Belt(02,22)
Lower Legs:Leggings*
Upper Legs:Hunter's Pants(26,27)
Shins:Samurai Shin Guards*
Socks:Cloth*
Feet:Leather Boots(02,22)