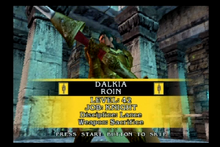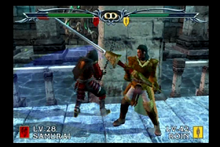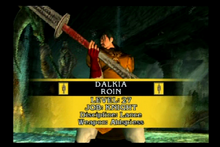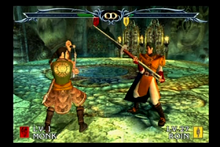 Roin is the leader of the Dalkian armies and secret lover of Aurelia. It is possible that he was behind the death and murder of the former king. He led the armies against Grandall at the Whelsdat Bridge, but was soon forced to retreat back to Dalkia. He tried to defend his queen from the main character's advance, but failed. He was killed in front of the castle of Revless.
https://www.youtube.com/watch?v=xaXL48njRbE#t=17m19s
Create a Soul formula SCIII
Name:Roin
Sex:Male
Job:Knight
Weapon:Lance(4)
Alignment:Good/Light
True Alignment:Evil/Dark
Face:05
Eyebrows:18,27
Lips:04,15
Eyes:01,04
Skin:04,17
Underwear:01,18
Voice:Man
True Voice:--
All:--
Head:--
Hair:Gelled Back(18,27)
Mask:--
Chin:Edgemaster Beard(18,27)
Lower Torso:--
Mid Torso:Shirt with Frills(01,16)
Upper Torso:Mage's Garb(08,19)
Arms:Bandit's Gloves(02,22)
Shoulders:--
Neck:Paladin's Cape(01,21)
Waist:Leather Belt(08,20)
Lower Legs:--
Upper Legs:Leather Pants(01,16)
Shins:--
Socks:--
Feet:Holy Boots(33,26)
Community content is available under
CC-BY-SA
unless otherwise noted.