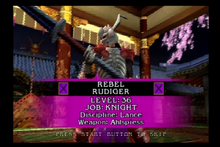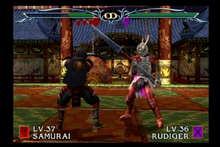 Girardot's elder son and member of his rebellion. He was a former member of Grandall. Rudiger quickly follows into his father's plans and protected him during the fight against Grandall's Anti-Rebellion force in training grounds. He is defeated and his father died after that. Being incapable of accepting his father's death, Rudiger tries to attack Parousia alone to exact revenge, but the Arthias rebels stopped him. Although Rudiger didn't trust them, since they were part of his father's demise, he accepted on working with them against Strife. He joins the Arthias only if Feofan in Chronicle 15 is defeated after him.
https://www.youtube.com/watch?v=6PC7dkVYmC0#t=6m29s
Oddly he appears in Soulcalibur IV's Tower of Lost Souls descend floor and he uses Yoshimitsu's style.
Weapons
He uses the weapons common to the Knight style - Lance
Create a Soul formula SCIII
Name:Rudiger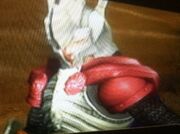 Sex:Male
Job:Knight
Weapon:Lance(4)
Alignment:Evil/Dark
Face:05
Eyebrows:19,27
Lips:04,16
Eyes:01,27
Skin:04,17
Underwear:01,18
Voice:Young Man 2
All:--
Head:Evil Helm(08,15)
Hair:Medium Length(19,27)
Mask:--
Chin:--
Lower Torso:Chain Mail(05,01)
Mid Torso:--
Upper Torso:Bandit's Gear(10,08)
Arms:Dragon Gauntlets(10,06)
Shoulders:Lord's Shoulders(02,18)
Neck:Dark Knight's Cape(30,19)
Waist:Lord's Tasset(07,14)
Lower Legs:Chain Pants(02,01)
Upper Legs:--
Shins:--
Socks:--
Feet:Unholy Leg Armor(03,21)
Notes
During his dialogue, his picture is shown with him without his helm opposed to all other characters with head pieces bearing theirs in their pictures.
Soul Calibur IV Details
Floor Appearance: Descend path
Floor: 31 and further
Fighting Style: Yoshimitsu
Skills:
HP Recovery B
Auto Grapple Break C
Community content is available under
CC-BY-SA
unless otherwise noted.