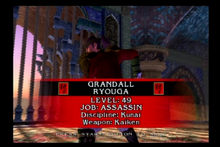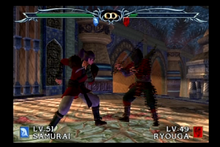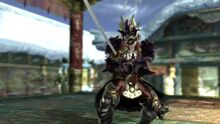 Ryouga was a soldier who fought under Abelia's command during Chronicle 18. In Soulcalibur III, he used Greed's fighting style.
Ryouga appears in Soulcalibur IV in Tower Of Lost Souls ascend mode under the floor "No Man's Land" based on Mitsurugi and teamed up with Setsuka.
In Soulcalibur: Broken Destiny Ryouga is still based on Mitsurugi's style but he appears in endless trial only.
Soulcalibur IV Skills & Details
Auto Impact A
Auto Grapple Break B
Ascend Mode Floor: No Man's Land
Partner: Setsuka
Weapon: Shishi-Oh (1P)
Community content is available under
CC-BY-SA
unless otherwise noted.