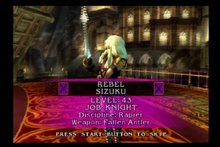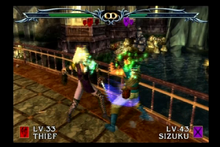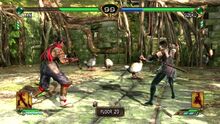 Sizuku was one of the few Rebels loyal to Girardot Argezas. Sizuku is a knight so she uses the rapier discipline which is the same fighting style as Amy's.
Sizuku appears in Soulcalibur IV in Tower of Lost Souls Ascend Mode as a boss on the floor "No Man's Land" and her partner is Yoshimitsu but she also appears in Soulcalibur: Broken Destiny under both Quick Match & Endless Trial Mode. Sizuku is based on Taki in both games.
Create a Soul formula SCIII
Name:Sizuku
Sex:Female
Job:Knight
Weapon:Rapier(3)
Alignment:Evil/Dark
True Alignment:--
Face:09
Eyebrows:01,27
Lips:04,16
Eyes:01,27
Skin:04,14
Underwear:01,18
Voice:Girl 1
True Voice:--
All:--
Head:Lioness Helmet(25,14)(01,14)
Hair:Priest Wig(01,27)(31,23)
Mask:--
Chin:--
Lower Torso:--
Mid Torso:Chaser Robe(31,23)
Upper Torso:--
Arms:Thief's Gloves(01,26)(01,26)
Shoulders:Leather Pads(11,22)
Neck:--
Waist:--
Lower Legs:Lady Pants(31,15)
Upper Legs:--
Shins:--
Socks:Short Socks(01,24)
Feet:Stringed Boots(01,27)
Soul Calibur IV Skills & Details
1.Auto Impact S
2.Impact Heal
3.Auto Grapple Break S
4.Impact Edge
Ascend Mode Floor: No Man's Land (Boss)
Partner: Yoshimitsu
Community content is available under
CC-BY-SA
unless otherwise noted.