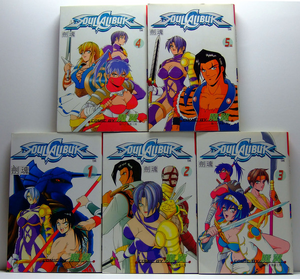 Soulcalibur (劍魂 Jiànhún lit. translation 'Soul of Sword') is a Chinese Manhua that was released in 1999 from author Mó yì (魔翼) published by Qingwen (青文). Mó yì's other work includes Everything OK Co., Ltd (萬事OK有限公司) and Maken Wars (激剑灵化). The manhua ran for 5 volumes and 35 chapters. The plot follows the story of Soulcalibur 1 with more backstory and character development given to Kilik, Maxi, and Xianghua.
Characters
Story
Volume 1
Chapter 1 starts with Cervantes murdering the members of his pirate crew, Sophitia and Taki arrive not long after to defeat him. They succeed in breaking Cervantes' secondary Soul Edge but the shards pierce through Sophitia's body, injuring her. Cervantes, still able to fight wielding the primary Soul Edge, duels with the now enraged Taki. Her primary kunai is destroyed but quickly she's able to draw her hidden blade and pierce Cervantes' skull. His body immediately begins to self destruct; quickly, Taki takes Sophitia's unconscious body and flees to avoid the blast.
Siegfried appears not long after Cervantes was defeated by Sophitia and Taki. He finds the primary Soul Edge and wields it, immediately feeling enchanted by the cursed sword. Siegfried abandoned his Faust and wields Soul Edge, returning to Ostrheinsburg Castle to meet with his comrades.
Chapter 2 opens with Kilik amidst the chaos in the Ling Sheng-Su Temple with all of the inhabitants are fighting each other under the influence of the Evil Seed. Xianglian gives the Dvapara-Yuga to Kilik in order to stop him from falling victim to the Evil Seed as well. However she was quickly consumed by the Evil Seed's influence and she began to attack Kilik, forcing him to kill her. Kilik became violently upset at all the death and destruction of his temple, losing consciousness not long after. Edge Master arrives the next day, walking through the corpses, he finds Kilik and carries him away to let him recover. Meanwhile Kunpaetku begins a dark ritual that will allow Soul Edge to take control of Siegfried.
In Chapter 3 Siegfried loses control of his mind to Soul Edge and he kills every single soldier in the castle, being seduced by Soul Edge's power.
Gallery