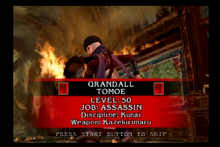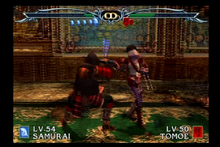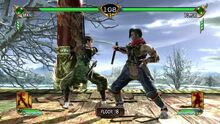 Tomoe is an NPC character from Soulcalibur III and Soulcalibur IV in Chronicles Of The Sword & Tower Of Souls. Tomoe is a female assassin alongside with Ryuki. She can be created in Character Creation mode with the kunai discipline and Soul of Yoshimitsu.
Trivia
In Soulcalibur lV, Tomoe's fighting partner is Ryuki. Both of them are tag team partners during a fight.
Tomoe is the name of Naginata (Weapon) in Koei's "Samurai Warriors".
Chronicles Of The Sword
Chronicle 19
GRANDALL
TOMOE
Level: 50
Job: Assassin
Discipline: Kunai
Weapon: Kazekirimaru
Tower Of Lost Souls Details & Skills
TOLS Ascend Floor Challenge: No Man's Land (Floor 18)
Partner(s): Ryuki
Base: Yoshimitsu
Weapon: Yoshimitsu (1P)
Skills: Auto Impact B
Auto Grapple Break B
Community content is available under
CC-BY-SA
unless otherwise noted.