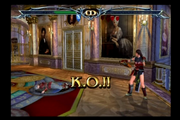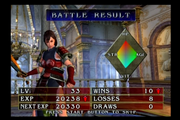 Yuilin is a character in The Chronicles of the Sword in the Soulcalibur III video game. She made her debut in Chronicle 13.
Biography
Soldier under Abelia's command, and another member of the Cadet's Anti-Rebellion force against Girardot. She, after Girardot's defeat, decided to follow the Cadet into rebellion. She wields the Steel Fan.
Create a Soul formula SCIII
Name:Yuilin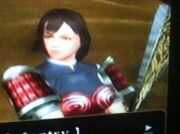 Sex:Female
Job:Saint
Weapon:Steel Fan(1)
Alignment:Good/Light
Face:10
Eyebrows:03,27
Lips:02,16
Eyes:20,25
Skin:04,17
Underwear:01,18
Voice:Girl 1
All:--
Head:--
Hair:Long Hair [Tied](03,27)(02,06)
Mask:--
Chin:--
Lower Torso:Shishou Hakkei(06,16)(36,19)
Mid Torso:China Dress(27,01)
Upper Torso:Protect Armor(02,21)
Arms:Bangles(02,24)(07,07)
Shoulders:Iron Shoulders(02,24)
Neck:--
Waist:Armored Belt(02,23)(36,25)
Lower Legs:Cloth Bikini(22,06)
Upper Legs:--
Shins:Ashigaru Shin Guards(02,24)
Socks:Short Socks(01,27)
Feet:Prayer Shoes(10,15)
Community content is available under
CC-BY-SA
unless otherwise noted.